Exceptionally low pressure drop
Demand-based static pressure reset
Energy Saving, Sustainable Airflow Control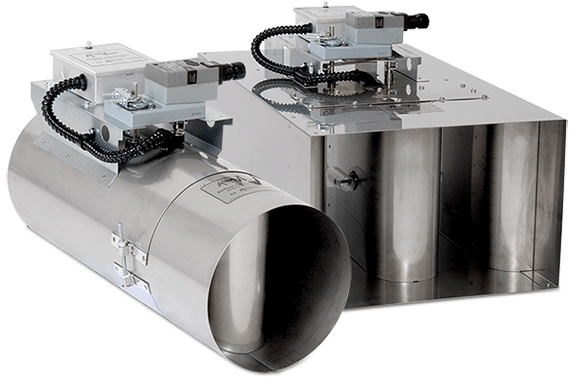 Unmatched Sustainable Airflow Control
The design and features of the AccuValve allow you to deliver cost-saving, sustainable airflow control. The combination of low pressure drop design, demand-based static pressure reset control, ISO 9001:2015 certification and ASHRAE 90.1 compliance makes AccuValve unmatched by other airflow control valves on the market.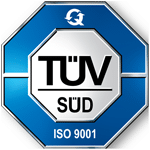 The airflow valve in your critical environment airflow control is the most important piece of equipment. This single device is responsible for providing operational safety, low energy use through reduction of system static pressure, and continued sustainable user features and operation for the life of the building.
The AccuValve was specifically designed to be a low pressure drop control valve.
No fan energy required
Streamline design provides a much lower drag coefficient
Reduced overall pressure drop means less fan horsepower
Significant energy reduction
Reduces the building's environmental impact and carbon footprint
Operates at lower duct pressures
Noise levels are lowered in the duct
Choosing Your Critical Environment Airflow Control
Facilities owners and engineering teams now get involved early when deciding which critical airflow control systems to use in their buildings. They understand the issues of safety, lower energy and sustainable practices within critical environments. The reason? Over the past 10 years, airflow control technology has gone through an evolution, with Accutrol setting new standards and leading the way.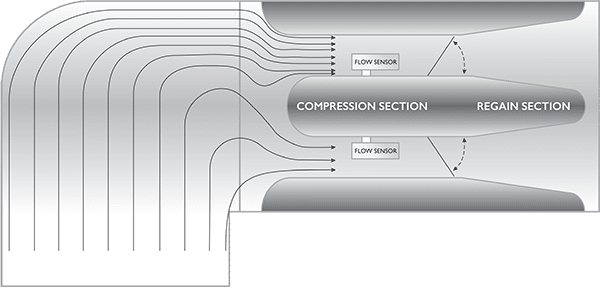 A compression section in the front of the valve compresses the air removing turbulence and increasing air velocity.

Low Pressure Drop
(by Design)
Much like a silencer, the AccuValve divides the airflow into two airstreams using an airfoil shaped compression section. This compression increases the velocity and makes the airstream more laminar. It also improves turndown of the measuring system and eliminates the need for straight runs into the valve.
By adding a static pressure regain section after the control blades, the compression section further reduces the pressure drop of the valve. This is why we can say…
"The AccuValve provides superior low pressure drop technology over other airflow control valves on the market!"
Demand Based Static Pressure Reset Control
The AccuValve is designed to meet important ASHRAE 90.1* guidelines and I2SL** recommendations for reduced static pressure drop without any external devices in the airstream for both supply and exhaust systems in labs.
Since the AccuValve measures airflow, the valve will modulate to whatever position is required. The blade position can be monitored to check which valve within a system is most open and the associated system static pressure can be adjusted to the most energy efficient set point. These steps ensure that the fan is operating at the lowest possible static pressure, while maintaining laboratory safety.
This simple demand based static pressure reset control strategy allows the fans to run at minimum electrical input at all times.
* ASHRAE Standard 90.1 discusses this implementation.
** International Institute for Sustainable Laboratories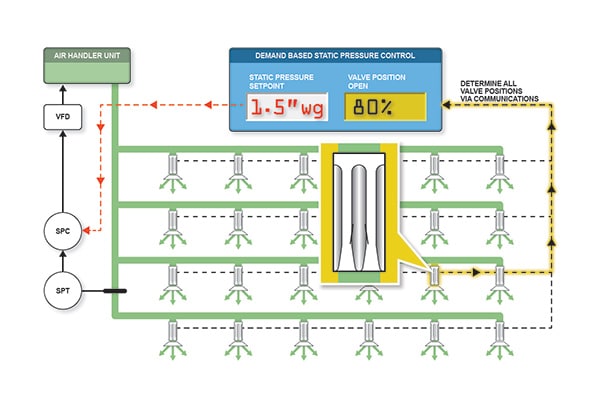 By using demand based static pressure reset control, the system operates at the lowest possible static pressure.
Ask us about the AccuValve selection tool for iPhone, iPad and Android devices.